Ubisoft launched the UPlay gaming network with Assassin's Creed II release in 2009. Ubisoft CEO Yves Guillemot said that the program will unite all Ubisoft games, and allow the company to be much closer to the players. One of the advantages of Uplay at the start was the Uplay Actions / Rewards system. The more you play, the more rewards you can get. For performing special actions in the game you get points that you can spend on special rewards: improvement for the game, the skin of the desired character or the soundtrack.
This Uplay design lasted until 2012. New Uplay releases got new Actions / Rewards, as well as achievements.
Uplay PC 2.0
Before Assassin's Creed 3 was released in 2012 Uplay was updated to version 2.0.0. Developers have prepared a special video demonstrating the new functionality.
Besides new design the update brought many changes:
Revamped interface
Ubisoft games library
Friend list and chat system
Cloud saves synchronisation
Offline mode and proxy settings
In-game notifications and overlay
Cross-platform Actions and Rewards
Links to free to play games
Integrated Uplay Shop
Ability to make your own avatar
Launch of browser plugins that allowed run Ubisoft games. However with version 2.0.4 the functionality was limited and allowed to run only the Uplay client. Soon the plugins were abandoned.
Uplay 3.0
The third version of Uplay has undergone great changes. The design was again renewed in search of the optimal variant, and the client functionality was significantly enlarged:
Easier activation of games. All games bought in the Uplay Shop will be automatically added to your game library
Select the destination folder for downloads
New download list
A unified library. Ubisoft Uplay games bought on Steam are now displayed in the Games library alongside all your other Uplay games, and can be launched directly from there.
Quick access to previously launched games. Four games are available directly from the Uplay homepage.
These are the final innovations in the third version. Up until the release of Uplay 4.0 developers fixed errors and prepared the client for the releases of new games.
Uplay 4.0

Release of the Uplay 4.0 was scheduled for October 2013.
Before the presentation of the new features Ubisoft pleased the fans with great news: since September 16th 2013 it was possible to change the email address directly on uplay.com! Previously you had to contact technical support.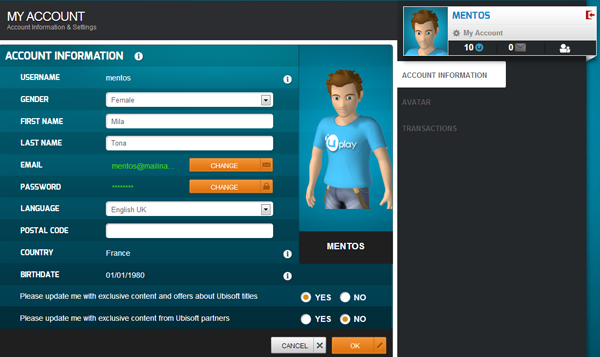 The main feature that was implemented in the new version was Download Manager. This feature became a replacement for Ubisoft Game Launcher / Ubisoft Autopatch. Now to install new patches, it is enough to run Uplay and everything else will be automatically installed. And when you install the game you got the latest version with all updates.
The first game to support the new installation method was Assassin's Creed IV: Black Flag. New technology allowed to select the language, as well as specify the folder where the game will be installed.
The client has not changed much. On the left of the programm there was a column with company tweets and on the right a social wall was added. With this update fans had the opportunity to find out what achievements and actions were completed by friends, as well as the games they were playing. Now you can stream games through Twitch. To do this you had to open an overlay specify the data of your Twitch account and select the broadcast settings.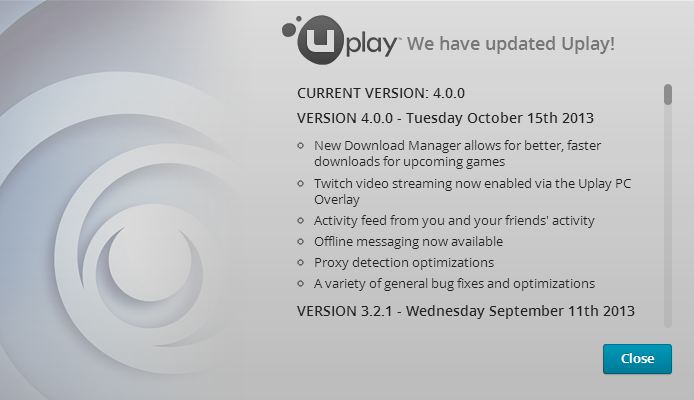 4.1
• You can now launch and exit your game with an Xbox compatible gamepad. Included Assassin's Creed IV Black Flag.
• It's now possible to activate game content directly in the Uplay overlay and your games page.
• The settings menu have been updated to display the options in a more logical order.
4.2
• You can add games to your favorites list.
• Twitch was integrated to the Social Wall
4.3
• You can now adjust the bandwidth usage limit of Uplay.
• A new automatic crash dump reporter has been added.
• Application patching and download speeds have been upgraded.
Developers worked hard on the new updates and in version 4.4 they presented another batch of innovations.
Opportunity for new players to register using Facebook, as well as importing friends from the social network (currently not available).
Updated cloud storage system
The process of loading saves from the cloud has been improved reducing the chance of file corruption. By reducing the amount of data downloaded, game synchronization was accelerated. Also a new overlay design was presented.
Developers were very carefully prepared and made many changes in version 4.7
— Major UI changes: From the Social Wall to the Game Library, including the Free page & your Uplay progression, the Uplay PC interface has been improved!
Updated social wall design:
• Changed color according to the app.
• Facebook button in a less visible place.
Updated user interface and improved functionality in the game section:
• Centralized names
• Game titles are now visible under the poster
• Updated game list view
• Added ability to hide games in your library.
Game management is available:
• You can delete the game
• Hide it
• Add to favorites
4.8
Automatic login from Steam
Link your Steam account to Uplay in order to seamlessly start your games from Steam.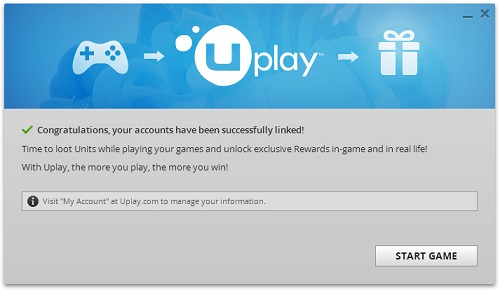 VoIP: (Temporarily unavailable)
• Talk with your teammates while in a party to conquer the game.
• Support for one to one conversations directly in the client.
• Push 2 Talk functionality
EA Origin Support
• You can now start your EA games from Uplay much faster and more smoothly.

In Uplay 4.9 particular attention was paid to features that fans have long requested. This latest update allows players to minimize and close Uplay to the system tray as well as background updates of the client.

While running on your computer the Uplay client will silently download and update itself and once completed you will be prompted to restart your client.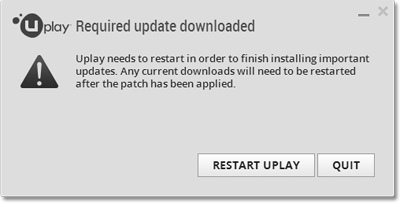 After this update in November 2014 there was a small pause until February 2015. With the new update Ubisoft had changed the patch versions. There were no more numbers. There was only the name of the month and date. Instead of Uplay 5.0 we recieved February Update — 19/02/2015.
Uplay February Update — 19/02/2015

The update included important features and improvements to support games.
New Download Manager, which received support for multiple downloads at the same time, as well as the ability to set the priority of downloads.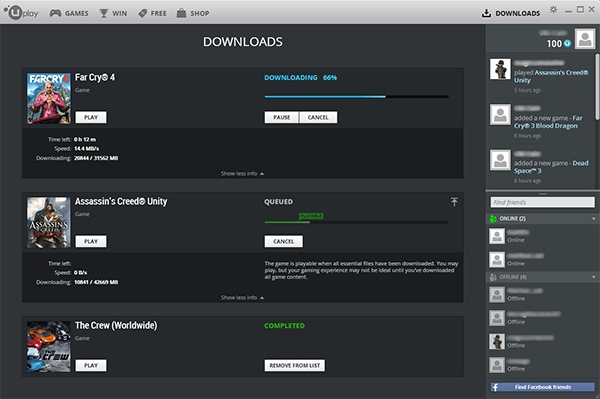 The download manager can be accessed at any time by clicking on the «Downloads» button in the top right corner of the client.
Detect Existing Game Files
Client probably received the most useful feature. If you've got a new hard drive or re-installed windows Uplay now has an option — specify the path to the game files.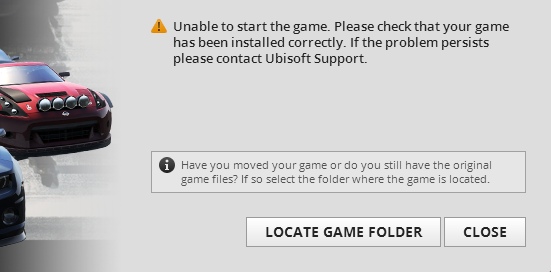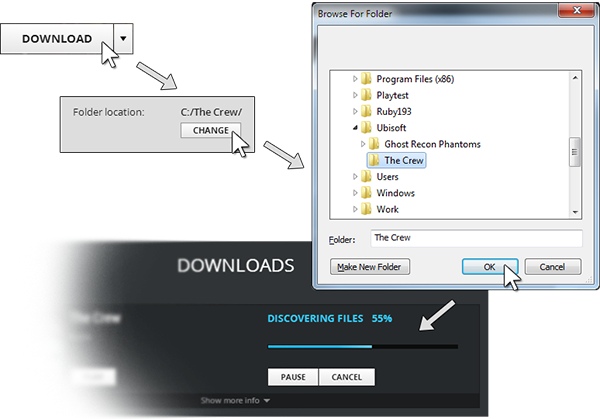 In addition to that, if you ever move an installed game's folder on your computer without uninstalling the game you can simply hit the «Play» button again in the Uplay Client and you'll be prompted to re-locate it. Once you have, you can jump straight back into the game.
FPS Counter Overlay
Now you do not need to use different programs Uplay itself will display the number of frames in the game. You can activate the setting in the overlay.
VoIP Visual Notification
As an addition to our existing VoIP features we've added a new visual notification that you can see in game any time a party member speaks or presses their push-to-talk key.
Game Version Selector
New option allow developers to test updated game versions in a live environment before releasing them to the public.
Uplay April Release

In April release developers improved the design of the chat, as well as a friends list. Both the Friends and Chat windows will now be displayed as individual windows separate from the main Uplay client. In addition notifications have been improved which now displays what your friends are doing.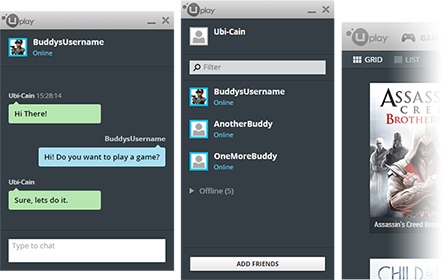 Разработчики решили временно отключить VoIP в чате, пообещав вернуть её обратно в будущем обновлении, а VoIP-связь по-прежнему доступна в игре через Uplay Overlay.
New Social Notifications
• When a friend comes online or launches a game
• When you receive new chat messages
• When you receive friend/game/party invites.

Also in this release:
• In order to improve Uplay players can receive beta versions of the Uplay client.
• Speed improvements in the client
• Replaced Uplay proxy settings with Windows proxy settings
Uplay May Release
• Automatic Game Updates and Online Status Indicator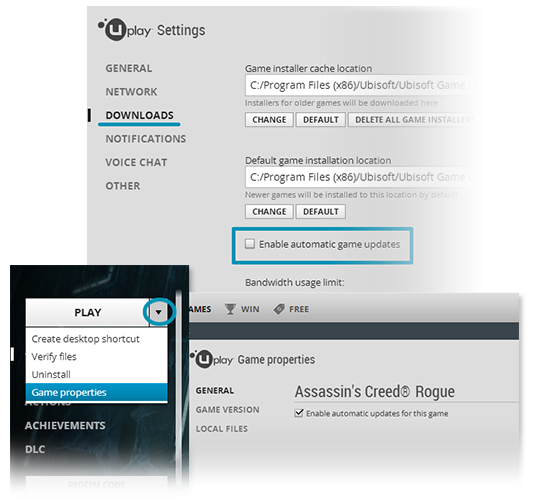 Uplay September Release 3 — 2015

Once again the developers took a long pause, but returned with a rather large update.
The update presented a significant revision of the interface as well as many quality of life improvements.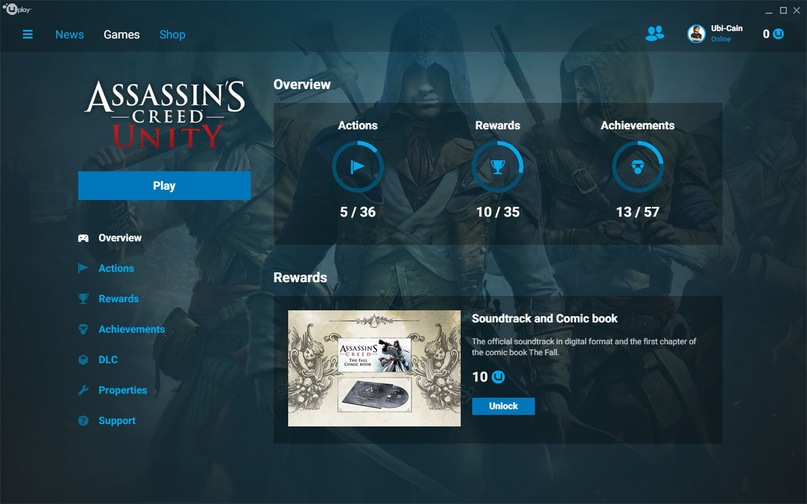 • Your game is always the focus.
If you launch Uplay required game from outside of our client, be it via a desktop shortcut, Steam or your preferred launcher, we want you to have a seamless experience.
• Updated Install process for physical products.
While installing your games you'll be able to check out the game page and start planning on what Achievements, Actions and Rewards you'll be unlocking first.
• The «WIN» tab has been removed which was later replaced by Club Rewards.
• The «Social Feed» has been removed.
In 2015 developers decided to convert all old games into a new tech to support a modern installation. A full list of games adapted for the new technology is available on the Ubisoft forum: forums.ubi.com.
Uplay October Release — 2015

The October update has added a number of new useful features, as well as the announcement of the new service Ubisoft Club ubisoftclub.com
The Ubisoft Club
Earn exclusive rewards, gain experience and unlock dozens of badges to be displayed on your profile. Service has become a new stage in the development of Uplay Actions / Rewards.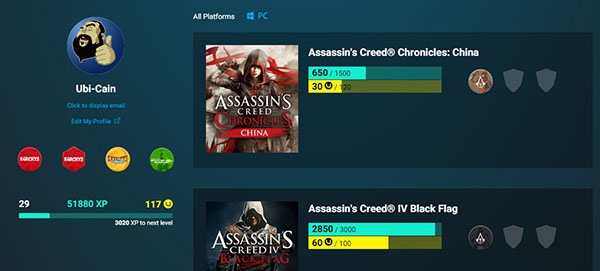 Uplay Actions / Rewards renamed to Испытания / Награды Club.
Game News
News for some of your favorite games can now be found on their respective game pages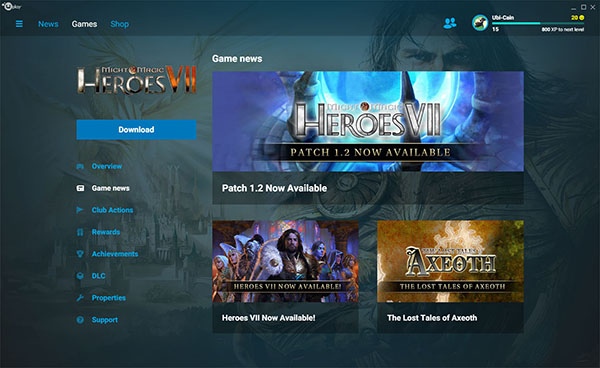 Also in this release:
• Import your friends from Steam
• Account Linking Status in Settings
• Layout customization on games library
• Download Speed Graph
The company's experiments with the Uplay PC design are over. In December 2016 update, the team slightly changed the background and in the following updates improved the individual elements of the client.
But we will not pass by useful functions and improvements, and we will note the most important:
16 октября 2014
Now you can change your nicknames on Uplay.com. Later developers added the appropriate option to the client. To change the user name now you have to open the section «Account Information» in Uplay PC.
​6 октября 2015
Upload your own avatar.
November Update 2 — 2015
• Improved game invitation flow and notifications. These changes focus on better support for multiplayer heavy games allowing you to invite multiple players easier and improving visibility for all involved parties
• Added a link to the «Account Information» page that will take you to the account management page on Uplay.com
Uplay December Update — 2015
• You will now be asked if you want to keep your games when uninstalling Uplay.
Uplay PC Client – October 2016 Update 2 -2016
• Added new DLC purchase options for the games you currently own to make finding content for your games easier than ever.
• Added a list of owned DLC to supported game pages.
• Added a challenges section to Rainbow Six Siege game page allowing you to manage your challenges before head in-game
Uplay PC Client – February 9 Update — 2017
With the release of the February update, the Uplay team introduced a new overlay,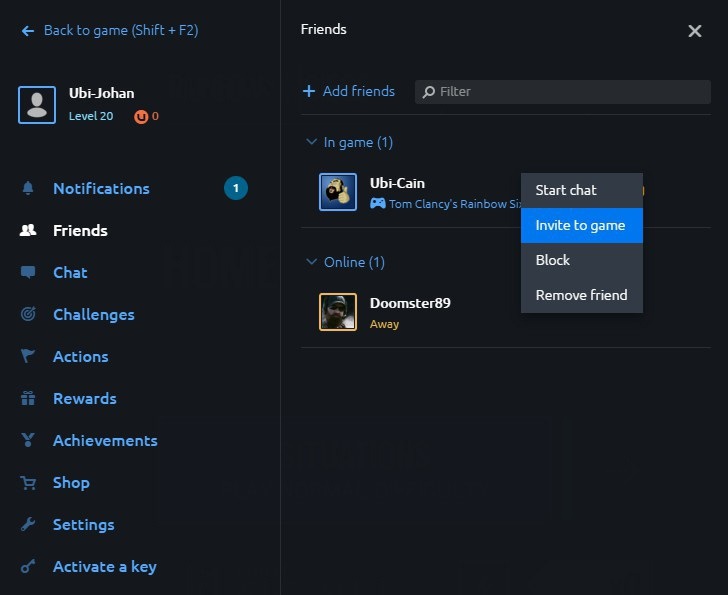 and notification popups have been redesigned to be more user friendly & informative. You have limited time to accept the invitation.

Uplay PC Client — July 11th Update — 2017
• Web browser in overlay.
• Client DPI scaling
• В июле 2017 также стартовала бета-программа Uplay. Любой желающий может стать её участником просто включив в настройках нужную опцию.
Uplay PC Client — August 31st Update — 2017
• New Games Library – Tabs are gone, Categories are in.
Uplay PC Client — October 11th Update — 2017
• Moved to a new authentication service that improves reliability when logging in
Uplay PC Client — September 19th Update — 2018
• News page is improved. The number of news has increased, and categories have also appeared.
For 9 years Uplay PC has come a long way from a simple launcher to a game library. During this time, the developers changed the design 5 times, they experimented with various functions, and even abandoned some. The program became easier and more informative.
Developers have something to strive for and we hope that in future updates we will definitely be surprised and delighted with the new functionality.
Special thanks to Anastasia Dolgosheeva and Gabriel Begorgis for their help with an article.
To be continued